A Florida dentist who advertises his "light touch" was arrested Sunday and accused of savagely attacking a doctor at a ritzy country club in Lake County.
Dentist Eddie Orobitg, 52, was golfing with his son when he reportedly became enraged after spotting Joseph Sivak, a physician, and his wife walking on the golf cart path at Harbor Hills Country Club about 60 miles northwest of Orlando.
"It is intended for golf carts, and it is a rule of the golf course," Orobitg allegedly chastised Sivak, according to an arrest affidavit obtained by Fox News Digital. 
"I live here. I know the rules," Sivak can be heard responding in the background of a 911 call. 
ACCUSED MICHIGAN GOLF COURSE RAPIST WAS SECRET INVESTOR IN OHIO STRIP CLUBS: SOURCES
After the two men began arguing, Orobitg allegedly swung his club at Sivak's leg.
The melee quickly escalated with Orobitg allegedly bludgeoning Sivak on the side and back of the head with the club as Sivak attempted to defend himself with a water bottle, the affidavit says.
In a hysterical 911 call, Sivak's wife can be heard intermittently shrieking. "They just won't stop!" she exclaimed. "They're fighting with golf clubs, kicking the s— out of each other!" 
Lake County Sheriff's Office deputies arrived and found Sivak covered in blood, and "it appeared his ear lobe was ripped," the document alleges. Sivak suffered broken ribs and a fractured cheekbone and required stitches to repair his ear. 
"I nearly died, that's the thing that scared me," Sivak told FOX 35. "Just heard somebody screaming, swearing at us, coming up really fast behind us."
Deputies questioned Orobitg, who offered a different version of the confrontation. He told authorities he had asked the couple to get out of the way, and Sivak got in his face, shoved him then spat on him. 
DNA TIES MICHIGAN BUSINESSMAN, 'AVID GOLFER' TO DECADES-OLD FAIRWAY RAPE
Sivak, the dentist alleged, struck him in the face with a water bottle, then "attempted to take his golf clubs," which he thought he was going to use to beat his son.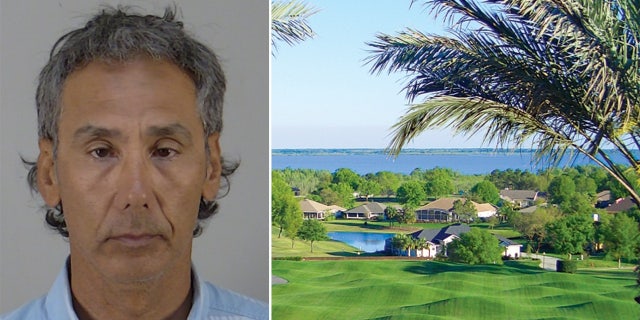 He only smacked the doctor's leg in self-defense, he said. But the doctor's wife and the boy said the brawl erupted after Orobitg spat in Sivak's face first.
Orobitg, who served in the U.S. Navy, appeared surprised when deputies arrested him, according to body camera footage obtained by Fox News Digital.
The family dentist was booked at the Lake County Jail on a felony charge of aggravated battery. He was released on $5,000 bond, records show. His attorney couldn't immediately be identified.
Matteo Cina contributed to this report.