Are you looking to improve your health and fitness but don't know where to start? Or, are you ready to supercharge your health and fitness journey with just a tap on your phone? Either way, you're in luck. The world of apps is here to help you break a sweat and stay in tip-top shape, all while having fun.
But with so many apps available on Android and iOS, it can be overwhelming to choose the right one. Luckily, we've done the research for you and compiled a list of the best health and fitness apps of 2023.
These apps can help you establish healthy habits like exercise routines and guided meditations, record your daily progress, and showcase how close you are to meeting your goals.
So, from tracking your steps to guiding you through heart-pumping workouts, there's an app for everyone and every goal.
This article will introduce you to some of the best Android and iOS apps that promote healthy living for both mind and body while still aiding your fitness goals.
1. MyFitnessPal
MyFitnessPal is a top-tier health and fitness app that puts your goals within reach. Its user-friendly interface helps you track your daily calorie intake, exercise routines, and nutritional information effortlessly.
Here are some of the features of MyFitnessPal:
Calorie Tracking – You can keep track of your food intake, calories count, macros, and nutrients.
Exercise logging – Track workouts, which include steps, distance, and calories burned.
Weight tracking – Keep an eye on your weight, body fat percentage, and other measurements..
Water tracking – Track your water intake.
Food database – The app has a large food database with over 14 million foods.
Whether you aim to shed a few pounds, tone up, or maintain a healthy lifestyle, MyFitnessPal has your back. The app's extensive database boasts over six million foods, ensuring accurate logging for a wide variety of meals.
It syncs seamlessly with other fitness devices and apps, making it a reliable companion on your fitness journey. MyFitnessPal's progress charts and personalized recommendations empower you to make informed decisions about your diet and exercise.
Ultimately, this app indeed paves the way for a balanced, health-conscious life.
2. Nike Training Club
You're undoubtedly aware that Nike is a reputable brand in the sports and recreation industry. However, while you might primarily associate the brand with the production of accessories, clothing, and equipment.
Nike also offers some exciting health and fitness apps. The Nike Training Club is an incredible example, which is designed to elevate your workout experience.
Some of the core features of Nike Training Club are:
Workout Library – The app offers a vast guided collection of different fitness levels and goal workouts led by professional trainers.
Training Plans – Itb offers specialized training plans designed to target goals such as weight loss, muscle gain, and overall fitness improvement
Customization – Users can customize their workout based on their fitness level, equipment availability, and preferred workout types.
Progress Tracking – The app includes tools that help you to monitor your progress Like workout history, completed workouts, and achievements.
Community and Social Features – Users can connect with friends, share achievements, and participate in challenges or group workouts through the app's social features.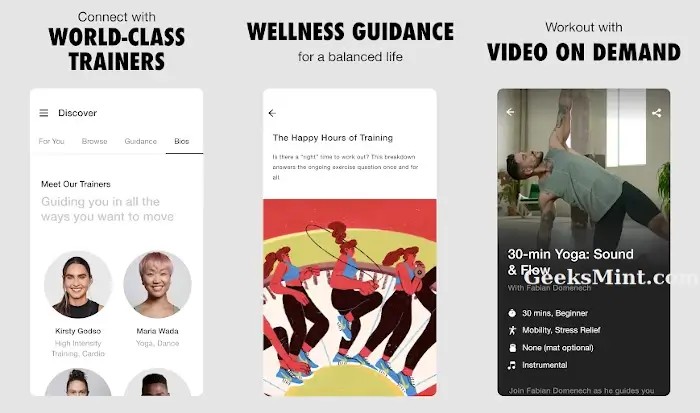 Whether you're a fitness newbie or a seasoned pro, Nike Training Club provides effective routines for strength, cardio, flexibility, and more. The app's library includes workouts of varying lengths and styles, ensuring flexibility in your fitness journey.
From HIIT to yoga, you'll find options that suit your preferences. With expert guidance and detailed progress tracking, Nike Training Club is your virtual fitness companion, motivating you to reach your goals and stay committed to your health and well-being.
3. Couch to 5K
If you like running and would like an application that will get you started, Couch to 5K is your app of choice. It stands out as a transformative app that will take you from a sedentary lifestyle to running a 5K race.
Through its gradual training program, it guides beginners step-by-step to build endurance and fitness.
Here are some of the features of Couch to 5K:
It's a safe and effective way to start running.
The program helps you build your endurance and fitness over time.
Lose weight or improve your overall health.
A fun and rewarding activity that you can do with friends or family.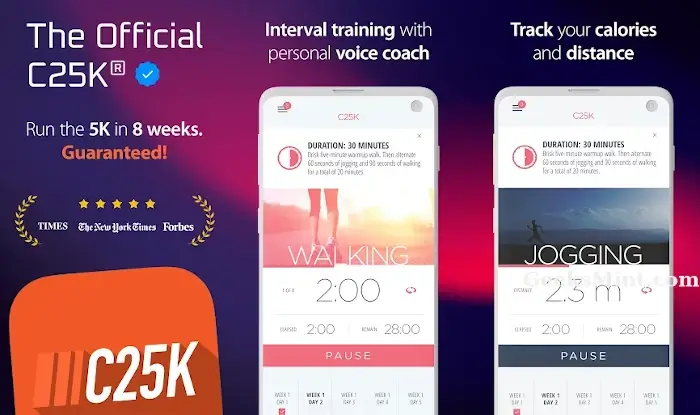 Perfect for those new to running, Couch to 5K provides a structured plan that alternates between walking and running intervals. The app's audio coaching keeps you motivated and informed about each session's goals.
Progress tracking lets you see your improvements over time, boosting your confidence.
Additionally, the app fosters a supportive community of fellow beginners and experienced runners, encouraging you every step of the way.
With Couch to 5K, you can transform from a couch potato to a confident runner, achieving a rewarding fitness milestone.
4. Fitbod
Since everyone has unique workout goals, there's no single universal workout plan that is a perfect fit for everyone. Thus, many people prefer health and fitness apps that are highly customizable. This is why Fitbod stands out.
Fitbod is a dynamic fitness app that tailors workout plans to match your unique goals and preferences, making it a valuable tool for effective strength training.
Some of the Features of Fitbod are:
Workout History – See all of your past workouts and track your progress over time.
Progress Tracker – Track how much weight you have lost, how much muscle you have gained, and other metrics.
Workout Suggestions – Get suggestions for new workouts based on your goals and progress.
Community – Connect with other Fitbod users and share your progress.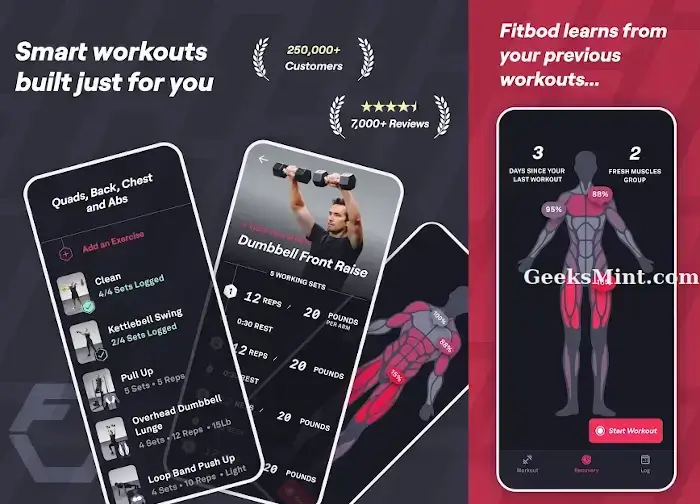 Fitbod's standout feature is its ability to create personalized workout routines based on your fitness level, available equipment, and desired outcomes. The app continually adapts, suggesting exercises and adjusting weights to challenge you appropriately.
With a vast exercise library covering various muscle groups, you'll never run out of options.
And as you would expect, Fitbod tracks your progress, helping you visualize your advancements and stay motivated. Whether you're a gym enthusiast or prefer working out at home, Fitbod's tailored plans and adaptive nature ensure that your strength training remains engaging, effective, and aligned with your fitness journey.
5. Strava
Anyone looking for versatility in the best health and fitness app on Android and iOS will undoubtedly choose Strava, which is a versatile fitness app designed for runners and cyclists to track their activities, connect with others, and analyze their performance data.
Here are some of the core features of Strava:
Challenges – It offers challenges and goals to motivate users to stay active.
Personal Records – Keeps track of your personal records (PRs) for specific segments, helping you track your progress over time.
Analysis Tools – The app provides tools for analyzing your performance, including pace charts, heart rate data, and power output for cyclists.
Virtual Competitions – It offers virtual races and challenges, allowing you to compete against others regardless of your location.
Route Exploration: It allows you to explore routes created by other users in your area, helping you discover new paths for running or cycling.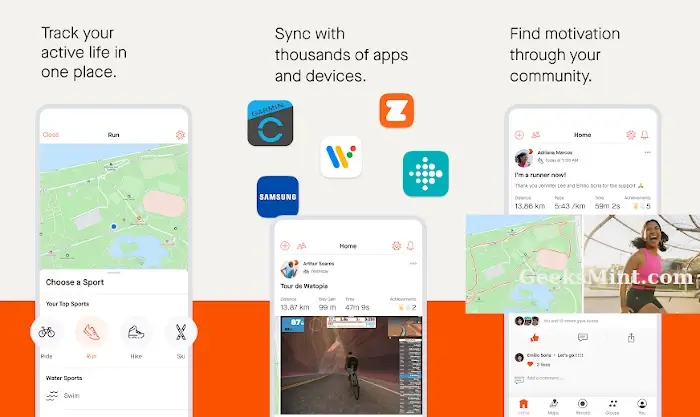 Strava lets you record your runs and bike rides using GPS, giving you detailed insights into distance, pace, elevation, and more.
Its route mapping feature will help you explore new paths and tracks. One of its unique features is segment challenges, where you can compete with others on specific stretches of your route.
Additionally, Strava fosters a social community, allowing you to follow friends, give kudos, and share your achievements.
Strava is an incredible option for Android and iOS users training for a race or those who are simply enjoying outdoor activities.
6. Better Points
If you are looking for an app that rewards you for your progress, Better Points is an exceptional choice. It is a fitness app that rewards users for exercising with points that can be spent on the high street in various shops or online.
It is a user-friendly app that combines fitness and rewards, making it a fun and motivating way to improve physical well-being.
Here are some of the features of BetterPoints:
Track Activity – Tracks your activities, like walking, cycling, or taking public transportation.
Earn Points – You earn points for each activity you track.
Redeem Points – You can redeem your points for rewards, such as discounts on local businesses or donations to charities.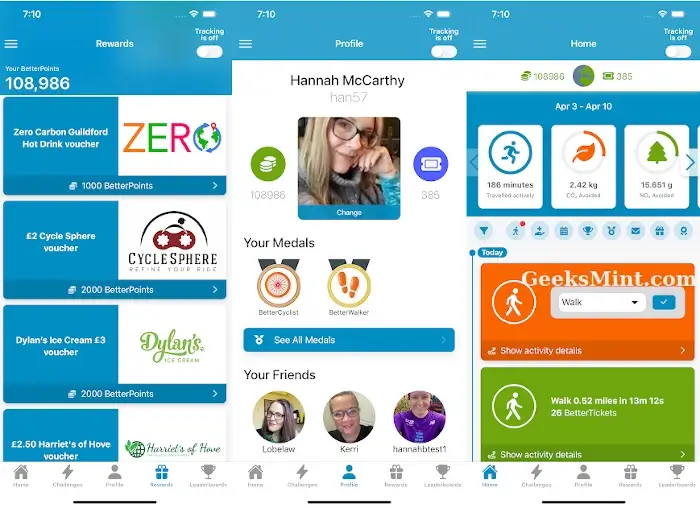 The app uses GPS to track movements accurately and prevent cheating. Users can earn points for activities like walking, cycling, or running, providing motivation to stay active and helping them track their progress over time.
The points earned can be redeemed at popular shops like New Look, John Lewis, Starbucks, Hotel Chocolat, and online retailers like Amazon.
By incorporating Better Points into their daily routine, users can establish healthy habits and improve their fitness levels while enjoying the rewards of their efforts.
7. Just Dance Now
Fitness regimens don't have to be too serious. Thus, if you enjoy dancing, you will find the convenience of maintaining your health and fitness levels with Just Dance Now.
This mobile app, developed by Ubisoft, allows you to experience the world of Just Dance without the need for a console.
Some core features of Just Dance Now are:
A wide range of songs.
Interactive gameplay.
Progress tracking.
Social features.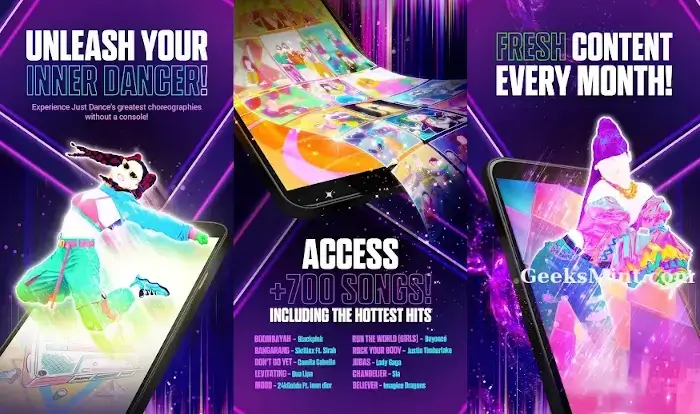 With over 700 songs in its catalog, Just Dance Now offers a wide range of tunes from around the world, including today's hottest hits and golden oldies.
The app turns your smartphone into a controller, tracking your moves as you follow the on-screen coaches, making it easy to play anywhere.
All it takes to turn any room into a dancefloor is an internet-connected screen, such as a TV, computer, laptop, tablet, Chromecast, or Apple TV.
Interestingly, you can dance to a free song every day, and new songs and exclusive content are added every month, ensuring a fresh and exciting dance experience.
Just Dance Now also allows users to show off their dance moves and skills to the world, share their personalized Dancer Card with friends, and connect with the Just Dance community.
8. Fitness RPG
Fitness RPG is an innovative fitness app that gamifies your workouts, turning exercise into an engaging role-playing game (RPG) experience. It combines the elements of a fitness tracker and a game.
With this "fit game," users can turn their workouts into an exciting and engaging RPG experience.
The app tracks physical activities like running, lifting weights, and walking, and converts them into game metrics to help users level up their character.
Here are some of the features of Fitness RPG:
Track your physical activities and converts them into game metrics
It allows one to set fitness goals and challenges
Progress Tracking.
Has a variety of quests and challenges to keep you motivated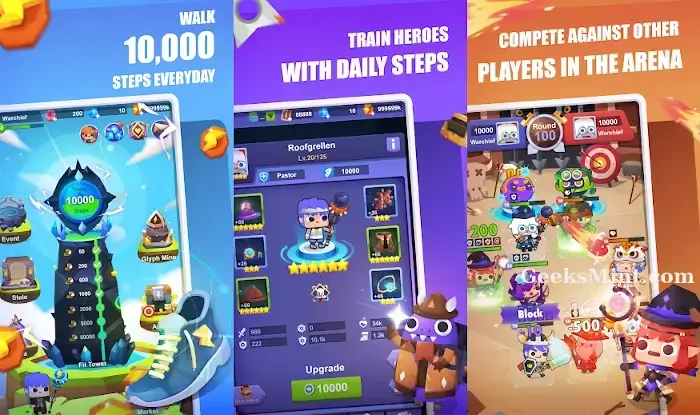 Fitness RPG transforms your fitness routine into a thrilling adventure. You'll choose a character, customize its appearance, and embark on quests. Each workout completed in the real-world powers up your character in the game, allowing you to battle monsters and complete challenges.
The more you exercise, the stronger your character becomes. The app provides a unique blend of motivation and entertainment, encouraging consistent physical activity. As you progress, you'll unlock new quests, equipment, and achievements.
Fitness RPG makes staying active fun, as you watch your in-game accomplishments mirror your real-world fitness achievements, creating a playful yet effective approach to health and well-being.
9. FitNotes
FitNotes is a straightforward and comprehensive workout tracker app designed for individuals who prefer a simple and effective way to log their fitness activities. It allows you to record your workouts with its familiar and easy-to-use interface.
Besides, you can visualize your progress with any exercise, see the breakdown by body part, and compare your records over time.
Core features of Fitnotes are:
Easy Workout Logging.
Exercise Database.
Tracks workouts, exercises, sets, reps, weight, and rest time
Allows you to create custom workouts and routines
Allows data backup on iCloud.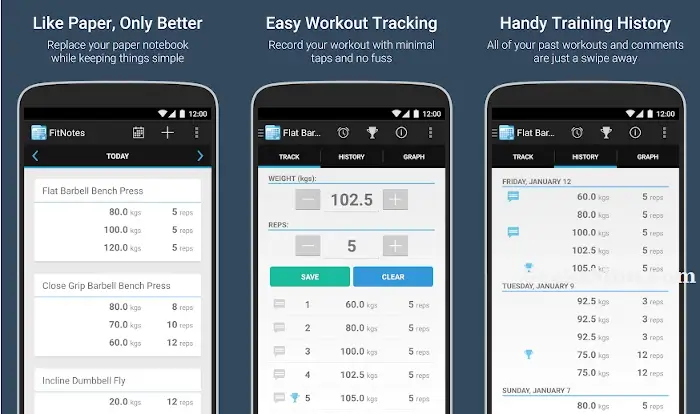 FitNotes excels in simplicity, offering a clean interface to quickly record your workouts. The app allows you to customize your routines by adding exercises from its extensive database or creating your own. You can log sets, reps, and weights for each exercise, enabling detailed progress tracking over time.
FitNotes is ideal for those who value efficiency and minimalism, as it focuses on core functionalities without overwhelming features. This makes the add-free app a perfect choice for those who want a simple and easy-to-use workout-tracking app that allows them to visualize their progress over time.
10. 7 Minute Workout
The 7 Minute Workout app is a compact yet effective fitness solution that offers quick and intense workouts for individuals with busy schedules seeking efficient ways to stay active.
It consists of 12 exercises that use your own body weight, a chair, and a wall to provide a high-intensity workout that alternates working opposing muscle groups and cranking your heart rate up with those that cool it down a bit.
Here are some of the features of FitNotes:
No Equipment Necessary – The app often focuses on bodyweight exercises, means the users don't need any special equipment to complete the workout. This makes it convenient for users to exercise anytime, anywhere.
Guided Workouts – The app typically offers guided workout sessions led by a virtual coach or instructor. The coach demonstrates each exercise and provides audio cues to guide users through the workout.
Interval Training – The workout is structured as a circuit, with each exercise performed for a specific duration (usually around 30 seconds) followed by a short rest period (10 seconds).
Quick Workouts – It provides high-intensity interval training (HIIT) exercises that are designed to be completed in a short amount of time.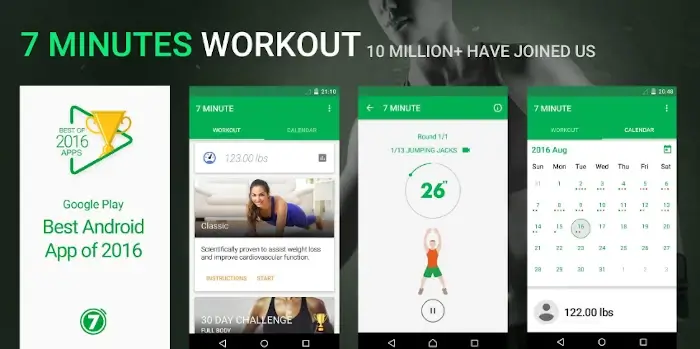 The app's standout feature is its concise 7-minute workout routine, scientifically designed to target major muscle groups and boost cardiovascular fitness. Each exercise is performed for 30 seconds with 10-second breaks in between.
No special equipment is required, as the exercises primarily use body weight. The app guides you through the workout with clear visuals and audio cues.
The workout includes exercises such as wall sits, push-ups, ab crunches, step-ups, squats, triceps dips on a chair, and planks. Despite its brevity, the 7-Minute Workout is designed to maximize calorie burn and improve overall fitness.
11. Yoga for Beginners
If you fancy yoga, Yoga for Beginners could be your ultimate app. It is a user-friendly app tailored to those who are new to yoga or looking to ease into a regular yoga practice with accessible routines and guided sessions.
The app is a great way to improve flexibility, strength, and mental clarity, and it's accessible to everyone, regardless of age, weight, or fitness level
The core Features of Yoga for Beginners are:
Introduction to Yoga – The app starts with an introduction to the fundamentals of yoga, explaining its benefits, principles, and different styles. This is particularly helpful for individuals who are completely new to yoga.
Pose Demonstrations – The App guides with step-by-step instructions and visual demonstrations of each poses which helps users understand the correct alignment and technique for each pose.
Variety of Styles – While the focus is on basic poses and relaxation, some apps might introduce users to different styles of yoga, such as Hatha, Vinyasa, or Yin yoga. This allows beginners to explore different approaches and find what resonates with them.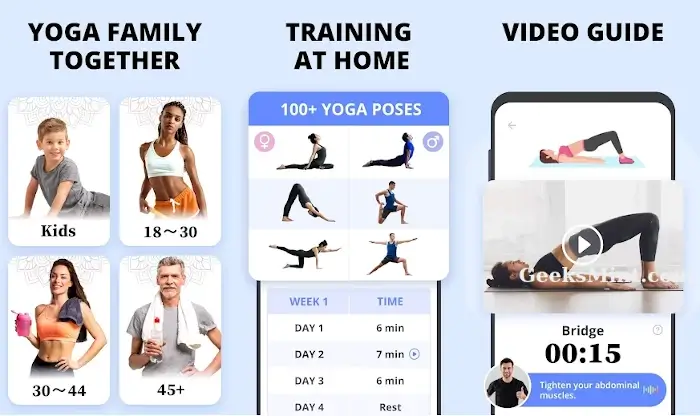 The app's focus is on gentle and beginner-friendly yoga routines, making it perfect for individuals who want to experience the benefits of yoga without feeling overwhelmed. The app ensures proper alignment and minimizes the risk of injury since each session is accompanied by step-by-step instructions.
With a variety of poses and sequences, you'll gradually build flexibility, balance, and relaxation skills. Moreover, the app introduces slightly more challenging poses and flows as you progress, allowing you to grow at your own pace.
Whether you're seeking stress relief, improved flexibility, or simply a moment of calm, Yoga for Beginners provides an accessible entry point into the world of yoga.
12. MapMyFitness
MapMyFitness is a versatile app that caters to outdoor enthusiasts and fitness enthusiasts alike, offering the ability to track a wide range of activities and map your routes.
The open platform integrates with over 400 fitness tracking devices, sensors, and wearable trackers.
Here are some of the features of MapMyFitness:
Activity Tracking – The app uses GPS technology to track your outdoor activities like running, cycling, walking, hiking, and other workouts. It records distance, pace, duration, and elevation.
Route Mapping – MapMyFitness allows you to map out your routes, which can be especially useful for planning and exploring new workout routes.
Custom Workouts – You can create custom workouts with specific goals and intervals, and the app can guide you through these workouts.
Social Sharing – MapMyFitness has social features that allow you to share your workout achievements and routes with friends or the MapMyFitness community.
Calorie Tracking – The app often includes a feature to estimate the number of calories burned during your activities based on your profile information and workout details.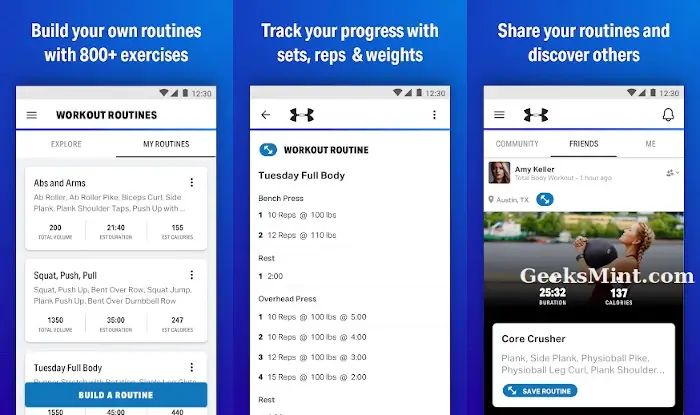 The app allows you to track various activities such as running, walking, cycling, hiking, and more, providing detailed statistics on distance, pace, elevation, and calories burned.
With GPS tracking, you can visualize your routes in real-time, helping you explore new paths and monitor your progress. Besides, it offers real-time audio coaching for common stats like pace, distance, and duration during runs.
MapMyFitness fosters community interaction, letting you connect with friends, share your accomplishments, and discover new routes created by other users.
This invaluable app empowers you to explore the outdoors, track your performance, and engage with a like-minded fitness community hence ideal for casual walkers or dedicated athletes.
13. StrongLifts 5×5
While most Android apps discussed above focus on general fitness and mental health, we now bring you an Android application that focuses on strength training. StrongLifts 5×5 focuses on strength training.
It leverages a simple yet effective 5×5 workout routine to help individuals build muscle and increase strength.
Here are some of the features of StrongLists 5×5:
Warm-up Sets – Before your work sets, you usually perform a few warm-up sets to prepare your body for the heavier weights.
Tracking and Progress – It's essential to track your workouts and the weights you lift to ensure continuous progress. Many people use a workout tracking app or journal to record their sessions.
Linear Progression – At the start of the program, you begin with relatively light weights to focus on proper form and technique. With each successful workout, you increase the weight lifted for each exercise. This linear progression helps you build strength and muscle consistently.
Deloads – If you fail to complete all five sets of an exercise at a certain weight for two consecutive workouts, the program recommends deloading. This means reducing the weight and gradually building back up.
5×5 Rep Scheme – Each workout consists of three exercises. For each exercise, you perform five sets of five repetitions (5×5).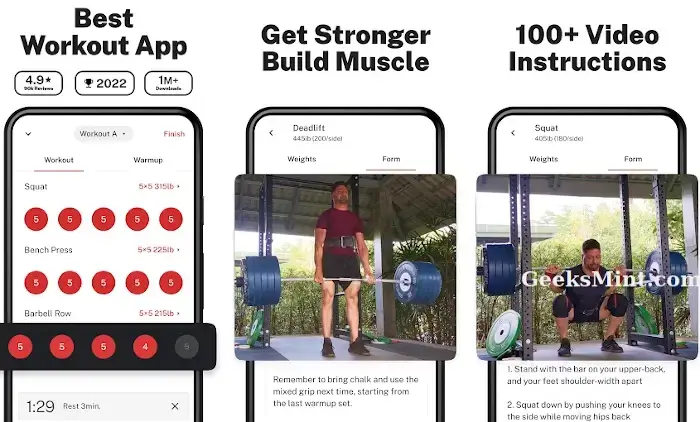 The app revolves around the 5×5 workout method, which involves performing five sets of five repetitions for compound exercises like squats, bench presses, and deadlifts.
This approach emphasizes progressive overload and gradually increases weights to stimulate muscle growth.
Notably, the app provides clear instructions and illustrations for each exercise, ensuring proper form and minimizing the risk of injury.
With built-in workout tracking, you can monitor your progress and stay on top of your lifts. StrongLifts 5×5 is perfect for individuals looking to focus on building strength and muscle mass, offering a structured and time-efficient approach to strength training.
14. JEFIT
JEFIT is a versatile fitness app that offers a comprehensive exercise database and customizable workout plans, making it a valuable tool for individuals with various fitness goals.
Notably, it provides hundreds of professionally built workout plans that you can customize to suit your fitness goals.
Some of the features of JEFIT are:
Workout Planning – JEFIT allows users to create personalized workout plans tailored to their goals, whether it's building muscle, losing weight, improving cardiovascular fitness, or general strength training.
Exercise Database – The app offers a vast database of exercises, including detailed instructions, images, and videos for proper form and technique, that help users perform exercises correctly and safely.
Custom Workouts – Users can create custom workouts by selecting exercises from the database and organizing them into routines that suit their preferences and goals.
Progress Charts – The app often provides progress charts and graphs that visually represent users' strength gains, weight changes, and other fitness metrics.
Performance Tracking – JEFIT may offer features to track performance metrics, such as the one-rep max (1RM) or total volume lifted for specific exercises.
Personal Records – Users can keep track of their personal records for different exercises, allowing them to see their progress and improvements.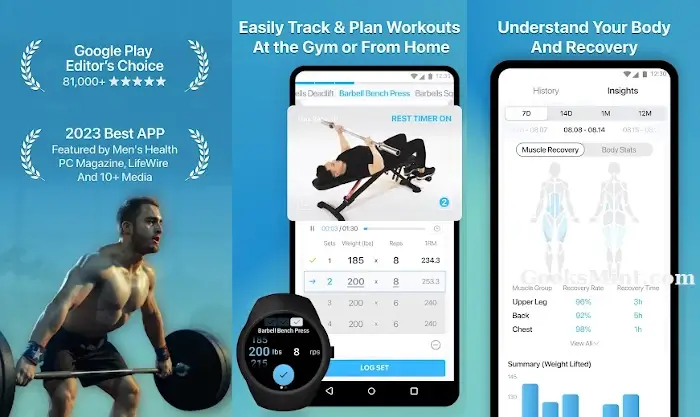 The app boasts an extensive library of exercises with detailed instructions and animations, catering to different muscle groups and fitness levels. JEFIT allows you to create and customize your workout plans based on your preferences and goals.
You can log your workouts, sets, and reps, helping you track your progress and stay accountable. The app's progress tracking features visualize your advancements over time.
Whether you're into bodybuilding, strength training, or just staying fit, JEFIT's flexibility and rich features make it a go-to app for planning, executing, and monitoring your workouts with precision.
15. Google Fit
Google Fit is a user-friendly health and fitness app that serves as a hub for tracking various activities, setting goals, and monitoring your overall well-being. It allows you to measure, track, and store your fitness information on mobile devices and smartwatches.
Some of the features of Google Fit are:
Activity Tracking – Google Fit tracks your daily physical activity, including steps, distance walked or run, and active minutes..
Heart Rate Monitoring – It can monitor your heart rate using built-in sensors or compatible wearables.
Goals and Challenges – The app allows you to set fitness goals, such as a target number of steps per day or a weekly workout goal. It may also offer challenges to encourage consistent activity.
Workout Tracking – Google Fit lets you manually log workouts, such as strength training, yoga, or other activities that may not be automatically detected.
Integration with Wearables – Google Fit can sync with a variety of wearable fitness devices, including smartwatches, fitness trackers, and compatible apps.
Health Metrics – The app may allow you to log and track health metrics such as weight, blood pressure, and blood glucose levels. Some data might need to be entered manually.
Sleep Monitoring – Some versions of Google Fit may include sleep tracking features, which provide insights into your sleep duration and patterns.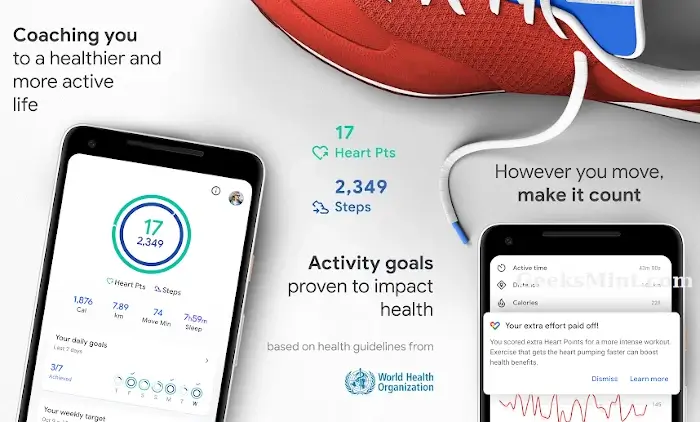 The app monitors your daily activities, counting steps and recording heart points based on the intensity of your movements. You can set personalized activity goals and track your progress over time.
Even more, Google Fit offers a variety of workout session tracking, including walking, running, cycling, and more.
It integrates with other health-related apps and devices to gather a comprehensive view of your health metrics. The app's user-friendly interface provides clear visualizations of your activity trends and progress.
Finally, this empowers you to make informed choices and keep tabs on your overall health and fitness journey, making it ideal for those aiming for a healthier lifestyle or specific fitness objectives.
16. Samsung Health
Samsung Health is an all-encompassing health and wellness app that brings together fitness tracking, activity monitoring, and wellness insights in a single platform.
It offers robust activity tracking, allowing you to monitor steps, distance, and calories burned. You can log various workouts and exercises, from walking to specialized routines.
Core Features of Samsung Health:
Activity Tracking – Tracks activity, like steps, distance traveled, and active minutes.
Heart Rate Monitoring – Monitor your heart rate with the help of built-in sensors or compatible wearables.
Workout Tracking – It allows you to manually log various types of workouts, like cardio exercises, strength training, yoga, and more.
Calorie Tracking – The app estimates the calories burned during your activities based on your profile information and the data it collects.
Health Metrics – Samsung Health might include features to track health metrics like weight, blood pressure, blood glucose levels, and more. Some data might require manual entry.
Stress Management – It offers stress tracking features that use heart rate variability to provide insights into your stress levels and suggest relaxation techniques.
Fitness Challenges – Samsung Health may offer fitness challenges and goals to motivate you to stay active and consistent in your workouts.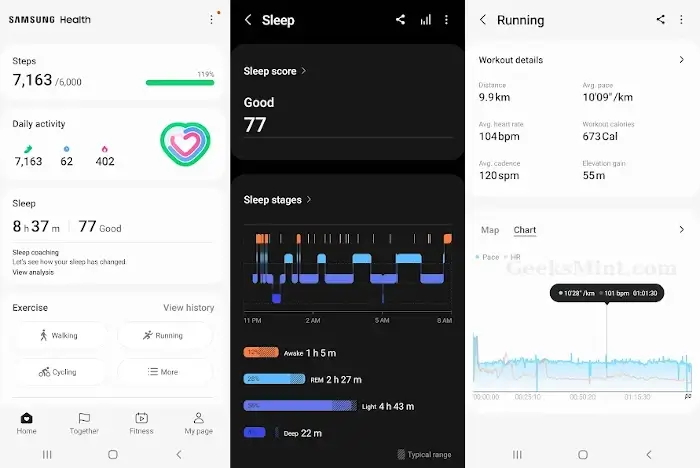 Interestingly, the app's nutritional feature enables you to track your food intake and set calorie goals. Engaging in wellness challenges encourages you to push yourself and stay motivated.
It also features sleep and stress monitoring functionalities that provide insights into your sleep patterns and stress levels, contributing to your overall well-being.
Interestingly, the app is available on Android and iOS phones and is accessible across screens of every size, from your wrist (and not just Samsung wearables) to your phone to your smart TV.
It remains a good app for tracking and improving your fitness and health hence making it to our list of best health and fitness apps.
17. Nike Run Clubs
Another application from Nike makes it to our review. The Nike Run Club is a premier running app tailored to runners of all levels, providing a comprehensive suite of features to enhance your running experience and progress.
This free app offers personalized coaching from a team of experts, including psychologists, nutritionists, and personal trainers.
Here are the Core features of Nike Run Clubs:
Run Tracking – The core feature of the app is its ability to track your runs using GPS technology. It records important metrics such as distance, pace, time, and elevation.
Audio Guided Runs – The app offers guided runs with audio coaching from professional coaches and athletes which provide motivation, training tips, and encouragement as you run.
Challenges and Goals – The app provides challenges and goals to keep runners engaged and motivated.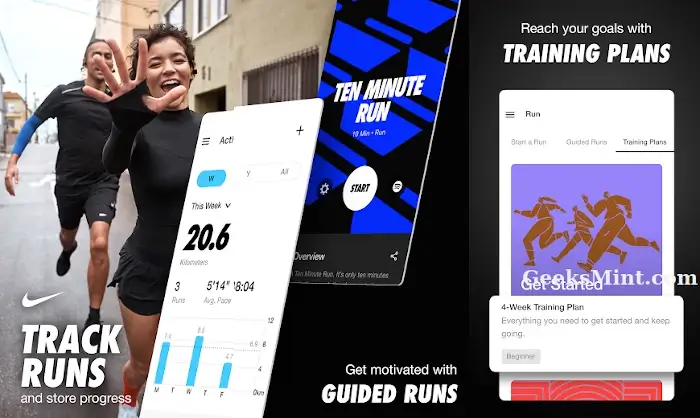 The app's running tracking feature uses GPS to record your runs, offering metrics such as distance, pace, elevation, and more. Nike Run Club offers personalized training plans that adapt to your goals and fitness level.
This feature ensures structured and effective training. The guided runs, led by professional coaches and athletes, provide motivation and valuable insights during your workouts.
The app also includes challenges and achievements to keep you engaged and striving for new milestones. With its sleek design and social integration, Nike Run Club creates a community of runners who share their achievements and support one another.
18. Headspace
Headspace is another leading meditation and mindfulness app. It focuses on helping individuals reduce stress, improve focus, and cultivate a sense of calm through guided meditation sessions.
Notably, it features an easy-to-navigate interface, making it accessible for beginners.
Core features of Headspace are:
Guided Meditations – It offers meditational guides such as stress relief, sleep improvement, and focus improvement.
Mindfulness Exercises – It offers a variety of mindfulness exercises, such as body scan meditations and mindful walking.
Progress Tracking – Headspace tracks users' progress and provides insights into their meditation practice.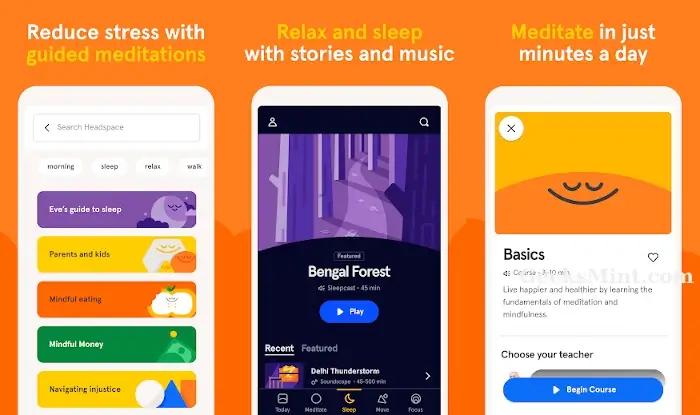 This app offers a range of guided meditation sessions, each focusing on different aspects such as relaxation, stress reduction, and improving sleep quality.
The app also provides mindfulness exercises that can be incorporated into daily routines to enhance awareness and presence.
Among its unique features is the collection of "Sleep Stories," soothing narrations designed to help you fall asleep peacefully. Its user-friendly interface and diverse content make it a valuable tool for individuals seeking mental well-being and a healthier, more balanced lifestyle.
19. Runtastic
Another versatile app that makes it to our list is Runtastic by Adidas. It is a versatile fitness app ideal for runners, walkers, and cyclists. The app offers a range of features to track activities, monitor progress, and improve performance.
Moreover, it offers guided runs with audio coaching from Runtastic coaches and athletes.
Some of the core features of Runtastic are:
Running Tracking – The app uses GPS technology to track your outdoor activities, primarily running and jogging. It records metrics such as distance, pace, time, calories burned, and elevation.
Training Plans – Some versions of the app offer predefined training plans for various running goals, such as improving your 5K time, running a half marathon, or training for a full marathon.
Social Sharing – Runtastic (Adidas Running) allows you to share your running achievements, routes, and progress with friends and the app's community.
Voice Coach – The app may include a voice coach that provides real-time guidance and motivation while you're running.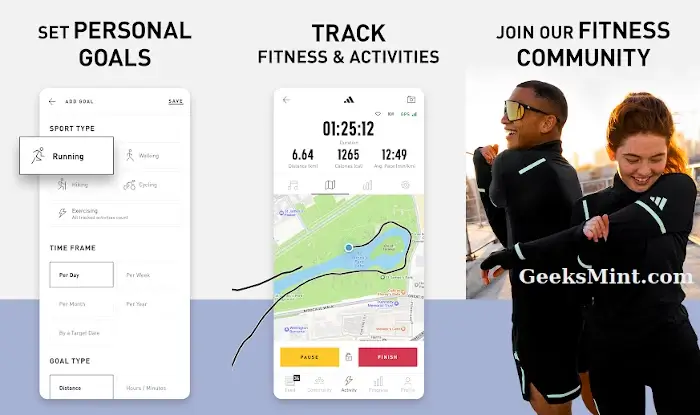 The app uses GPS to track your runs, walks, and bike rides, providing real-time statistics such as distance, pace, and elevation. Runtastic offers training plans designed to help you achieve specific goals, whether it's completing your first 5K or aiming for a marathon.
The app's community aspect lets you connect with fellow users to share achievements and encourage one another. With its integration of music and voice coaching, Runtastic keeps you motivated during workouts.
Runtastic's intuitive interface and robust features make casual joggers and dedicated athletes an excellent tool for tracking their fitness activities and progress.
20. Noom
The last app on our list is Noom, a unique health and weight loss app that focuses on behavior change and holistic well-being. It provides personalized support for individuals seeking to make sustainable lifestyle improvements.
Besides, the app is known for its emphasis on behavior change and mental wellness, rather than just calorie counting.
Here are some of the features of Noom:
Personalized Coaching – Noom provides personalized coaching from trained professionals, who help users set goals, provide guidance on nutrition and exercise, and offer support throughout their journey
Food Logging – The app allows users to track their daily food intake, such as calories, macronutrients, and other nutritional information.
Behavioral Psychology – Noom often incorporates principles of behavioral psychology to help users develop healthier habits, address emotional eating, and make sustainable lifestyle changes.
Meal Planning – The app might offer meal planning features or suggestions for balanced and nutritious meals.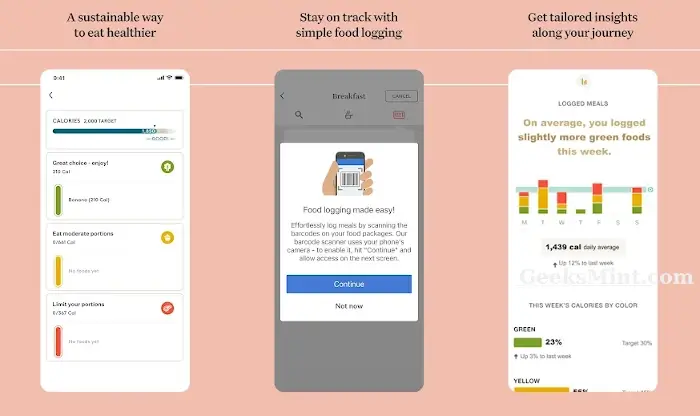 Noom's standout feature is its behavioral coaching, which guides users to understand their habits, make healthier choices, and cultivate long-lasting changes. The app will help you become more mindful of your eating patterns and choices by encouraging food logging.
Even more, Noom also offers weight-tracking tools to monitor your progress over time.
You will also fall in love app's interactive challenges and quizzes as they foster engagement and encourage learning about nutrition and behavior.
Unlike traditional diets, Noom takes a comprehensive approach, considering psychological and emotional factors that influence eating behaviors.
If you want to lose weight, improve your relationship with food, and adopt healthier habits, Noom provides a supportive and educational platform to achieve your goals.
Conclusion
These apps stand as our pocket-sized partners, offering guidance and motivation on demand. From personalized workouts to guided meditation, they've reshaped how we approach well-being. Whether we're tracking steps, busting stress, or pushing our limits, these apps adapt to our lives.
In a few swipes, we access tailored plans, connect with a community, and monitor progress. As technology and health intertwine, these apps empower us to take charge of our fitness journey.
So, as we continue striding towards healthier lives, let's celebrate these digital tools that make our goals more achievable than ever before.